Yolande Bavan visits 'all the familiar places'!
By Arun Dias Bandaranaike
Last week Sri Lanka's only truly 'internationally acclaimed' singing star, performed to a gathering of those that yearned for "Another Jazz Evening with Yolande Bavan and Dinuk Wijeratne". This implicitly alludes to the splendid evening a year ago at the Hilton Colombo, where both of them performed to a rapturous welcome for Ms Bavan after many decades of her not having performed in her home country.
On this occasion, JC's Entertainment had booked her in for another fundraiser as was the case last time, supporting the Sunshine Charity Day Care Centre in Sambalthivu, Trincomalee as well as the Multiple Sclerosis Association of Lanka (MSAL). That Yolande continues to display such an amazing enthusiasm and unstinting support of such causes is outstandingly notable. Considering too that this involves travelling across time zones all the way to Sri Lanka from New York where she is domiciled, for the sake of just a single concert date!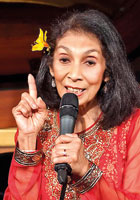 Yolande in concert: There was magic in the air
Yolande's bill-of-fare touched on all the familiar bases and some familiar places. Yet, there was a notable difference in the ambience and a telling impact that was achieved at this venue. The intimacy and proximity to art that is suggested within the confines of the Lionel Wendt theatre is supremely appealing as compared to a hotel ballroom.
The performers too seemed to be 'inspired' by the location, and therefore there was 'magic in the air'. It was certainly a homey-dahomey sort of approach that Yolande adopted with some really engaging, homespun patter delivered with disarming candor that, I know, touched some people to tears! She herself opined at some point in the proceedings, she is 'thankful she is Sri Lankan'. For all her international triumphs, she certainly presents herself as a confident Ceylonese would!
Maestro Duke Ellington was rather specific in his identifying singers when he introduced certain performers as "torch singers". Interestingly, this expression offers a distinction from Blues Singers, or even "Jazz Singers", and Yolande in her show this time, seemed to follow in this illustrious trajectory adopted at times by the likes of Mildred Bailey, Shirley Horn, Dinah Washington and the redoubtable Billie Holiday (who certainly has been an inspiration for her).
A particular medley of two Johnny Mandel songs bore witness to this phenomenon; "Where Do You Start?" [a collaboration with lyricists Alan and Marilyn Bergman] segued into "The Shadow of Your Smile" [lyric by Paul Francis Webster]. More than the tune, the Bergmans' lyric has all the pathos and drama of a feature film devoted to the subject of fractured romance and recrimination. Ms. Bavan accomplished this with heart wrenching power, and when she moved into "Shadow" it was as bittersweet in its cast but with the slightest emotional "lift" fitted craftily into the milieu, adopting a lilting latinesque approach in the tempo. This is what constitutes consummate artistry and it is rewarding to know that performers are still able to capture these subtleties in this raucous age.
It is almost superfluous to say that the evening was as musically satisfying because of the compelling support of Dinuk at the piano. His sensitive hands at the keyboard with just the most appropriately tasteful chords and inversions, subtle accents and rhythmic counter-pulses made the concert. He has what it takes, and for Sri Lankan audiences who have seen his artistic development over this past decade and a half, it was such a delight to hear his sheer mastery of the idiom as well as his unobtrusive brilliance. He treated us to an original, named "Hymn Peace" and he offered a spoken commentary of his rationale for calling it thus.
A fairly uncluttered melodic fragment in four phrases which began with an atmospheric manipulation of the strings of the grand piano which then moved into a pulse generated by the double-bass along with the drums entering a tad later. It had the invocatory nature of an opus one associates with the great pianist Randy Weston. However, Dinuk was definitely the creator of his own theme and departure, and what was particularly winsome was that he persuaded the audience, all together to hum the original theme toward the coda. This they did with remarkable prowess!
Dinuk was very ably supported by the New Zealand -born double bassist Patrick Bleakley and Colombo's own Christo Prins at the drums. There were some acoustic difficulties that one felt were occasionally intrusive in effectively capturing on microphone, the bloom and dynamic range of the bass, but in the overall, one could just as easily have not been bothered by it. One does remember the wonder the evening did provide!
Sunday Times Mar 6 2011